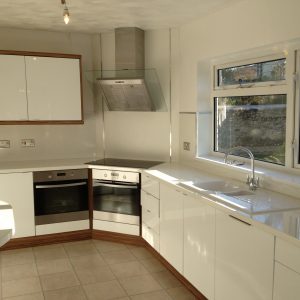 Kitchen refurbishments in Llandudno are a great way to breathe new life into an old kitchen.
Is your kitchen due for a facelift? Whether you want a complete overhaul or just a few minor touch-ups, Transform Your Kitchen Ltd has experienced and creative designers that can help you achieve your vision. We are a family-run business with twenty-five years of experience in kitchen renovations and refurbishments. Our specialities include replacement kitchen doors, quartz overlays for countertops, and laminate worktops.
The kitchen is often the heart of the home. In Llandudno, kitchen refurbishments can keep the kitchen stylish with modern conveniences as well as breathing fresh life into the space. In recent years, a popular kitchen remodel element involves changing the style of the cabinets. Outdated dark wooden cabinets are transformed into pristine white or lighter coloured wood that lightens and brightens the space around them. Another contemporary change is to paint the cabinets, walls or other surfaces in a gorgeous bold colour – either Pantone's colour of the year or one of your personal favourites. New countertops are also high on the list of popular kitchen refurbishments.
When it comes to kitchen refurbishments in Llandudno, form and function should meet to create a perfect balance. After all, the kitchen is a very utilitarian space that is in use every day. As such, elements such as storage, appliances, workable surface areas and other facilities need consideration alongside decorative elements. If you would like some expert guidance, contact Transform Your Kitchen about kitchen refurbishments. We place customer experience and satisfaction as a top priority. We pride ourselves on our personal touch and attention to detail. Furthermore, we offer fast turnaround times to reduce any inconveniences. Our strict quality control ensures that all installations are to industry standards and safety regulations.